Dial Indicators (Plunger Type) :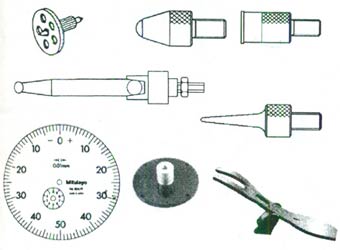 a) Internal parts :
Rack or intermediate gear, spindle, dial plates (scales), long & short hands, hair & spindle springs, Rubber O-rings, Tolerance pointers, Electronic display units or complete reading unit assy., Rubber button switches, LCD display, detector unit & many more.
b) External parts :
Bezel ring & glass crystals, Ball contact points (both carbide & steel), dust caps, bezel lock set, back plates (both lug type & flat). Cell covers or cell caps, holding rods for back plunger dials & many more.
c) Accessories :
i. Button cells (SR 44 & CR 2032), SPC data output cables (for digimatic instruments) and AC adapters.
ii. Special contact points or anvils : Ball points in carbide, steel, ruby & plastic & in various lengths. Conical points, needle type anvils, flat type, spherical , shell type, knife edge or blade type points, lever type for hard to reach locations, roller contact points, extension rods for increasing the reach or depth of dial gauge. Most contact points available in carbide & steel.
iii. Interchangeable back plates : Flat, Lug on centre, offset lug, magnetic back, back with post, back with screw mount, Adjustable or sliding back, back with adjustable bracket, back with dovetail.
iv. Spindle lifting tools : Lifting levers & handles, lifting cables & lifting knobs.
v. Miscellaneous : Colored dust caps, limit stickers, protective drip cover, rubber boots (bellows) for dust & water protection.
vi. Dial holding tools : Comparator stands with granite, steel & cast iron base. Dial stands & transfer stands with circular serrated & flat base. Magnetic stands (both rigid & flexible type).